The Amatuer Mycologist - Random Find: Possible "Mycenoid" Species, Perhaps In Mycena Genus (Maybe even Mycena flavoalba...?) / A Foray Into Tiny Mushrooms
These posts are not for foraging. They are intended for entertainment and intellectual satisfaction only. These posts are not a field guide nor comprehensive in any way - their accuracy is not assured in any way. Do not eat wild mushrooms unless you are a professional, have substantial professional assistance or have a wealth of personal experience with a specific species. Do not make any foraging decisions based on these posts. To do so could be dangerous or life threatening.
These Posts Contains No Information Regarding Edibility Or Toxicity
---
---
I tend not to be very lucky when it comes to timing my mushroom hunts
In general, the best time to go is fairly early in the day or morning, after a significant or substantial period of rain. Mushrooms of all species are predominantly water by weight and, generally, ample moisture is a pre-requisite for mushroom growth.
Ideally, whenever there were a couple of days of decent rain, or a single long downpour, I would just skip out on whatever it is I need to do that day and race into the nearest wooded area. In my case, that is Central or Prospect park, both of which are absolutely riddled with mushrooms if you look at the right time.
However, in practice, I am very rarely able to race out to my "forests" during ideal weather conditions. More often than not, I will find a tiny window which happens to coincide with a mild rain and hope that it was enough for some new mushrooms to appear. Usually it isn't - and the result is that I am rarely favored with the cornucopia of mushrooms you can sometimes find during ideal hunting periods.
Instead, I am often left searching the dry forest floor for the desiccated remnants of previous rains. This can make identification impossible sometimes, especially when you find a totally destroyed mushroom carcass.
However, my ill-luck and poor timing has also made me a very detail oriented hunter of mushrooms. In my desperation to find something, I often look way too closely at areas most people might ignore.
Recently, in central park, I found myself picking through the gigantic, decomposed mush pile of what was probably a beautiful Maitake a week earlier. In the giant pile of mush - really a couple of feet across of old, decomposed mushroom - I discovered something positively delightful. Here was my view looking down into the mush pile.
---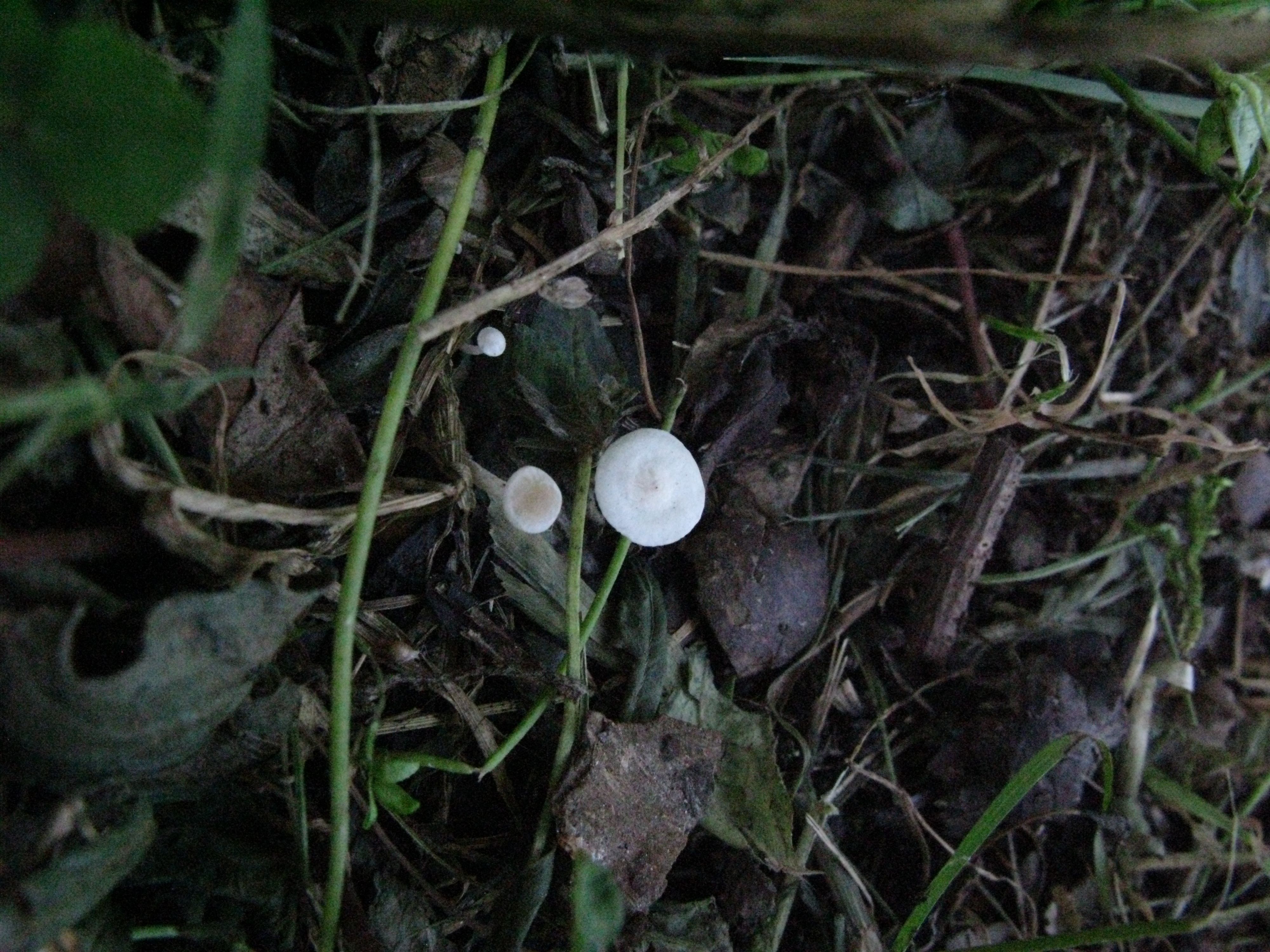 Scale is a bit difficult to discern in this picture - but let's go ahead and say tiny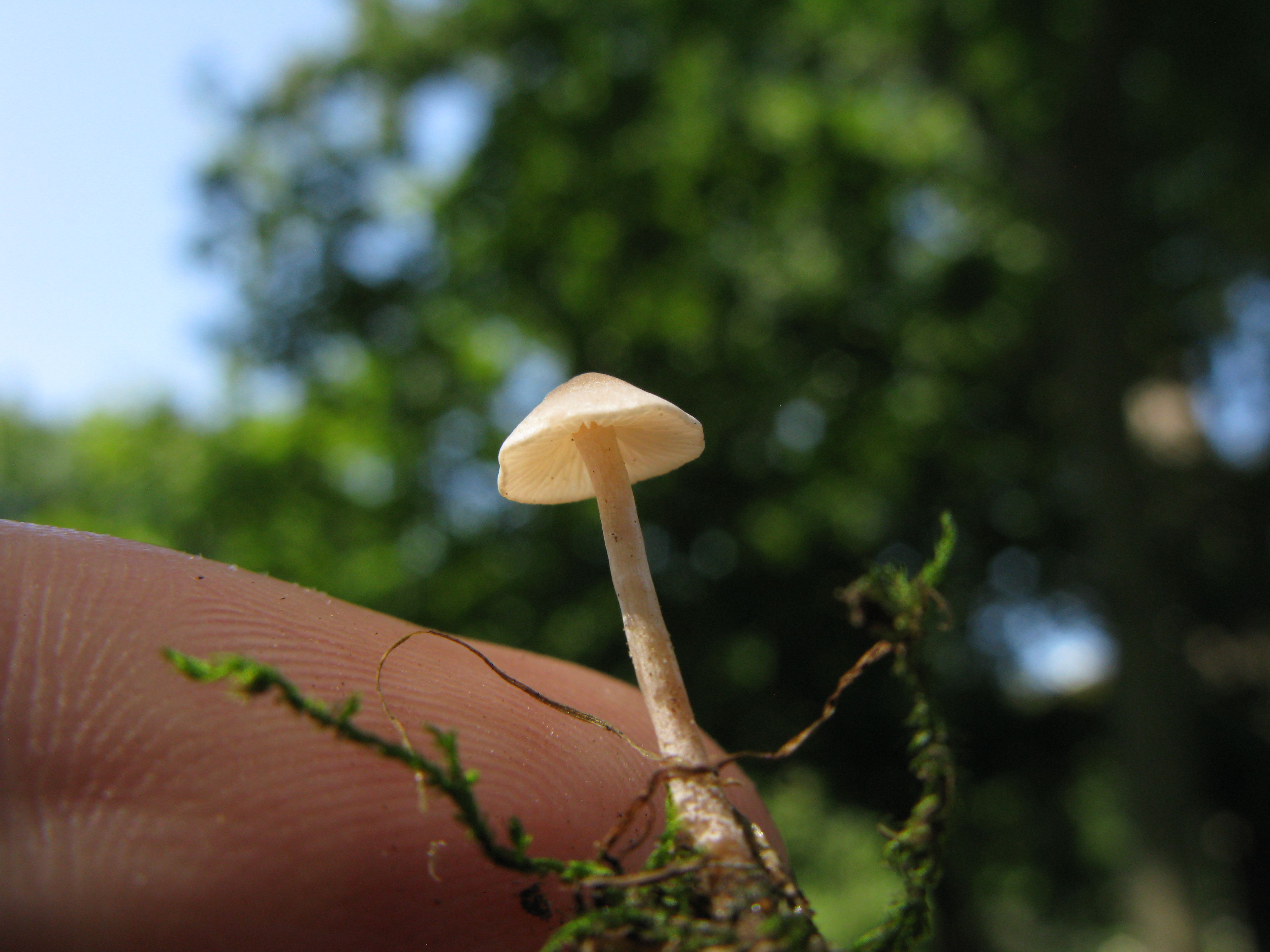 Deep in the bowels of the decomposing mass of old maitake were these little white dots. I actually thought they might be fairly rudimentary mushrooms - macroscopically speaking - perhaps undeveloped bird's nests or tiny earthballs. But, upon picking them up, they turned out to be the most perfect little gilled mushrooms. The best photo I took was the one at the top, which I've put to the left here just for easier reference.
Now, I don't live in Manhattan, and I had a long day ahead of me and no way of safely getting the tiniest mushroom I had ever seen back to my apartment. Nor had I previously encountered such a tiny gilled mushroom before, and so I did no consider the wide variety of traits which might still be discernible, and important, to identifying something so small.
For instance:
even a mushroom this tiny might still exude latex
or give off an intense smell if you crush the head into a pulp between your fingers.
a spore print could also have been recovered, despite the tiny size!
Plus a sample could have been taken home and put under my rudimentary microscope. Even a basic look at the spores could have made a big difference in this case.
All I knew was that I had found the teensiest little mushroom. And when I say teensy, I mean it. That's the very tip of my pointer finger in those two photos, and the mushroom is tiny in comparison to that! The cap could not have been more than a couple of millimeters across, and this was the biggest of the specimens I found. The stem was perhaps 1mm or less in width and only about 1cm or so in height.
Here's a photo where the scale of my hand is a bit clearer.
---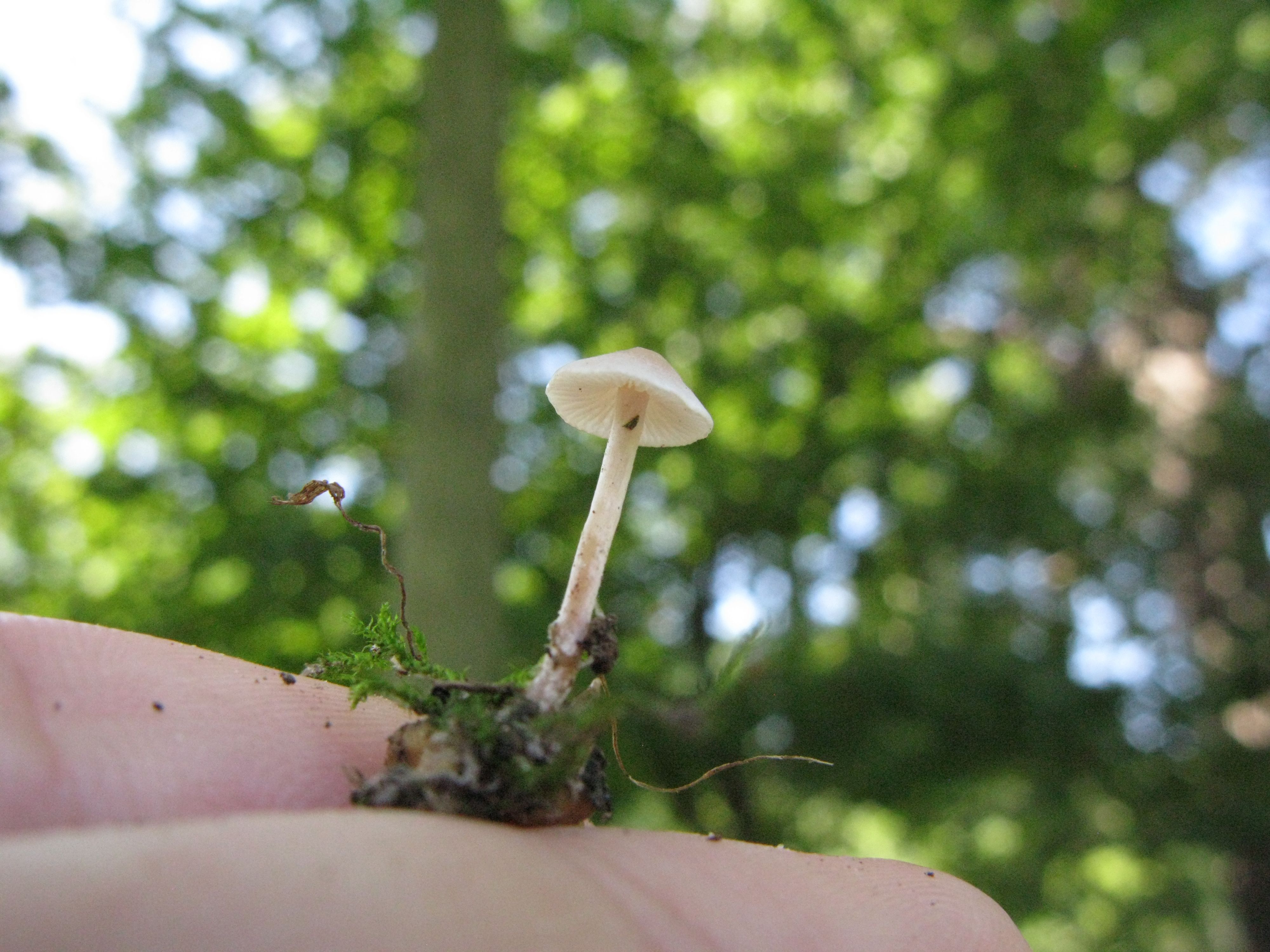 The question now is "what kind of mushroom is this?"
Identification has proven...difficult. This is not, as it turns out, surprising. To begin with, the identification of the myriad infinitesimal mushrooms which litter the forest floor, and are usually flatly ignored, is not easy. These mushrooms come in the same variety as their larger brethren, but with less overall attention having been historically paid to their comprehensive categorization.
My search eventually brought me to the Mycena genus, based on an overview of the options available using just macroscopic traits. Unfortunately, macroscopic characteristics are not a good way of ID'ing these kinds of tiny mushrooms.
First, I looked through the "Marasmioid" mushrooms, and then cycled through "Collybioid" type mushrooms, I didn't see anything that really looked right. Furthermore the keys for these mushroom types led nowhere helpful with what I knew.
This eventually led to the "Mycenoid" type mushrooms, which include the genus Mycena. Kuo's key was not particularly helpful with my limited information, but sometimes, as David Arora says, when it comes to identifications, sometimes a good picture of a mushroom really is worth a thousand words.
I am a firm believer in using publicly available photos only, so I won't post the photos a google search turned up - but if you google "mycena" mushrooms and compare those images to the ones I've posted here, you will see the resemblance - though somewhat passing - which led me to my broad guess. The most specific lookalike I could find would be Mycena flavoalba but that is, truly, a wild guess.
---
What are tiny mushrooms like this for anyway?
They're the workhorses of the saprobic mushroom world! Those relatively "giant" mushrooms you see when you walk through the forest, they play an important role in the processing of larger pieces of organic waste. But at the forest floor, basically year round, there are mushrooms like the tiny one pictured here, doing their important part to break down smaller particulate - or even specialized particulate which larger mushrooms cannot digest.(Kuo points specifically to Mycena luteopallens, which has a specialized appetite for the shells of nuts!) Although these mushrooms are clearly quite small, their large numbers and consistent presence makes a major ecological difference.
So, next time your walking through the forest for mushrooms - even on a dry day - don't forget to look very closely into the small, hidden places, or between the "tall" blades of grass. You are likely to find there a whole different mycological world in miniature.
---
Next time I will go over an affirmatively identified miniature mushroom, quite unlike any mushroom we've yet talked about.
---
---
THIS POST IS NOT INTENDED FOR FORAGING PURPOSES AND TO USE IT FOR THOSE PURPOSES WOULD BE DANGEROUS. DO NOT HUNT WILD MUSHROOMS WITHOUT RELYING ON A COMBINATION OF PROFESSIONAL FIELD GUIDES, IN PERSON PROFESSIONAL GUIDANCE, OR IN PERSON GUIDANCE BY SOMEONE TRUSTWORTHY WHO HAS COPIOUS LOCAL, SPECIALIZED MUSHROOM HUNTING EXPERIENCE. FAILURE TO DO SO CAN RESULT IN GRIEVOUS PERSONAL HARM OR DEATH.
---
Information Sources: http://www.mushroomexpert.com/mycenoid.html http://www.mushroomexpert.com/collybioid.html http://www.mushroomexpert.com/marasmioid.html https://en.wikipedia.org/wiki/Mycena http://www.first-nature.com/fungi/mycena-flavoalba.php
Photo Sources: All photos here are my own OC.