The Amateur Mycologist #16 - Stobilomyces strobilaceus - The Old Man Of The Woods
These posts are not for foraging. They are intended for entertainment and intellectual satisfaction only. These posts are not a field guide nor comprehensive in any way - their accuracy is not assured in any way. Do not eat wild mushrooms unless you are a professional, have substantial professional assistance or have a wealth of personal experience with a specific species. Do not make any foraging decisions based on these posts. To do so could be dangerous or life threatening.
These Posts Contains No Information Regarding Edibility Or Toxicity
---
Today we're going to talk about one of my favorite mushrooms
Strobilomyces strobilaceus. Quite the mouthful for someone so small and unassuming. Sometimes, mushroom's get nicknames that don't quite fit. S.strobilaceus is one of the few mushrooms whose nickname is, in my opinion, perfect: "The Old Man of the Woods."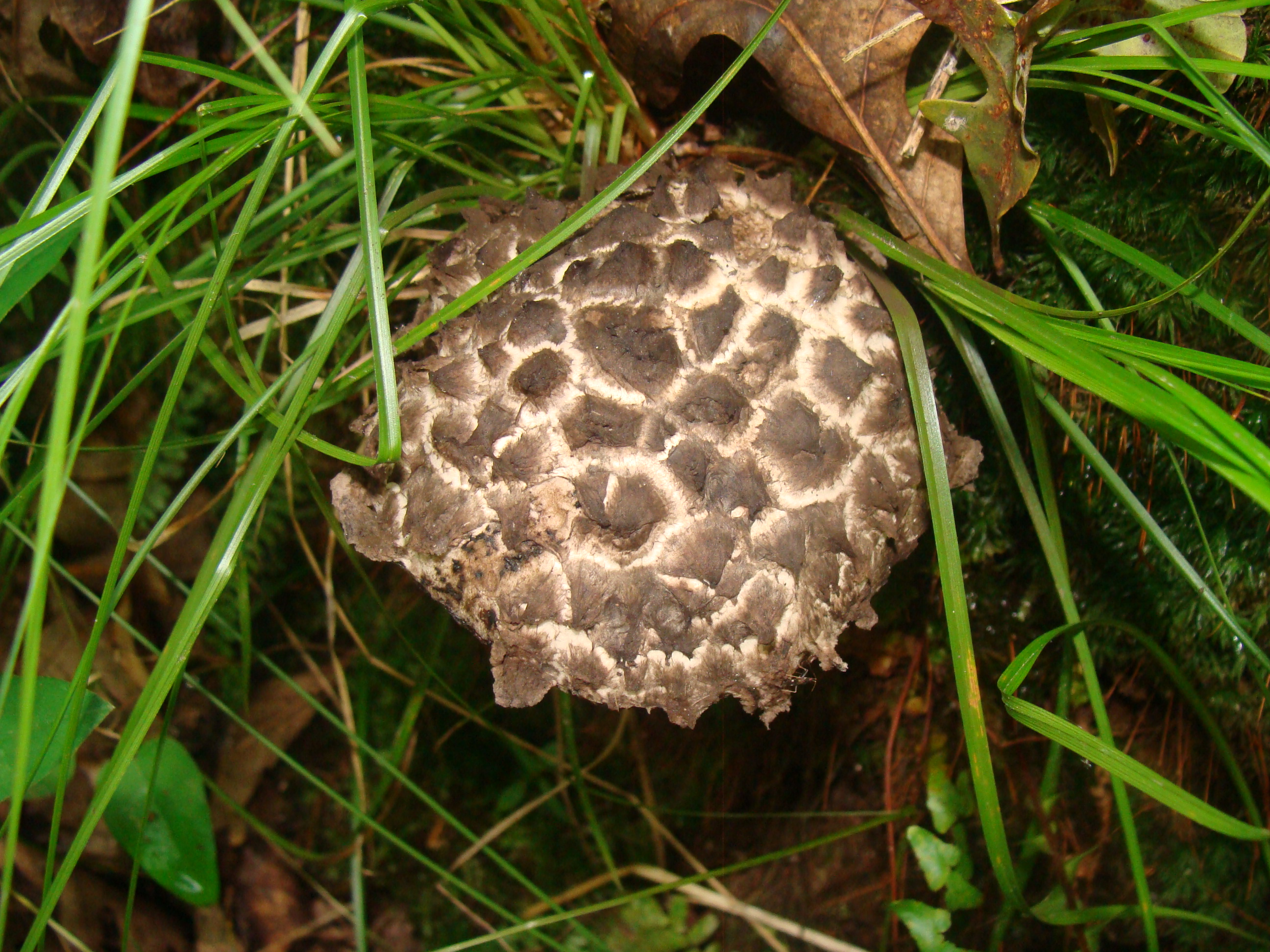 I love it! What a perfect image to sum up this mushroom! It's a nickname that conveys both the mushroom's essential self, as well as evoking the moment of its discovery. There you are, walking through the woods, scanning the ground, when you see him, hiding behind a nearby bush. His unkempt shaggy cap, his shaggier stem - all blacks and whites and grays - just waiting there, alone, waiting for time to pass. After leaning in close and taking a gentle look, something about the "old man" urges you to tip your hat respectfully and walk on.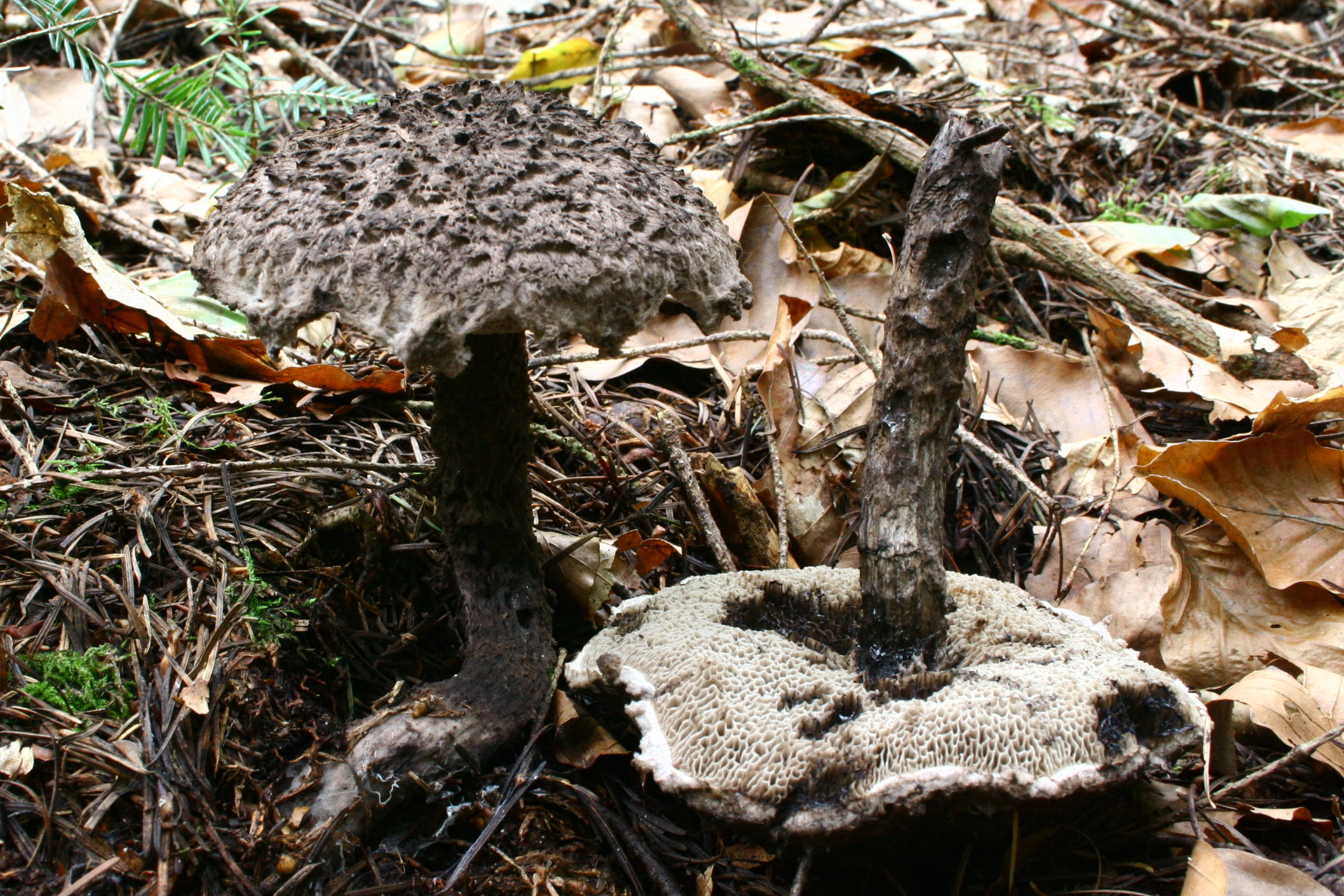 "The Old Man Of The Woods" ("OMW") is a distinctly colored bolete which tends to live by itself on the floor of deciduous forests. It tends to be nearby hardwoods and is mycorrhizal with them, living a mutually beneficial union with the tree organism.
The predominating characteristics of the OMW is its dark colors, the blackish grey shags on a white cap, the brighter, whitish gray pore surface and the shaggy, blackish grey length of its central stem.
OMW is one of those mushrooms you can identify almost at a glance. If you want to be sure you are dealing with the Stobilomyce genus, go ahead and cut the mushroom in half down the middle. It's flesh should be white at first, and then turn pink, then red, and finally black after being cut. The spore print should be almost or entirely black.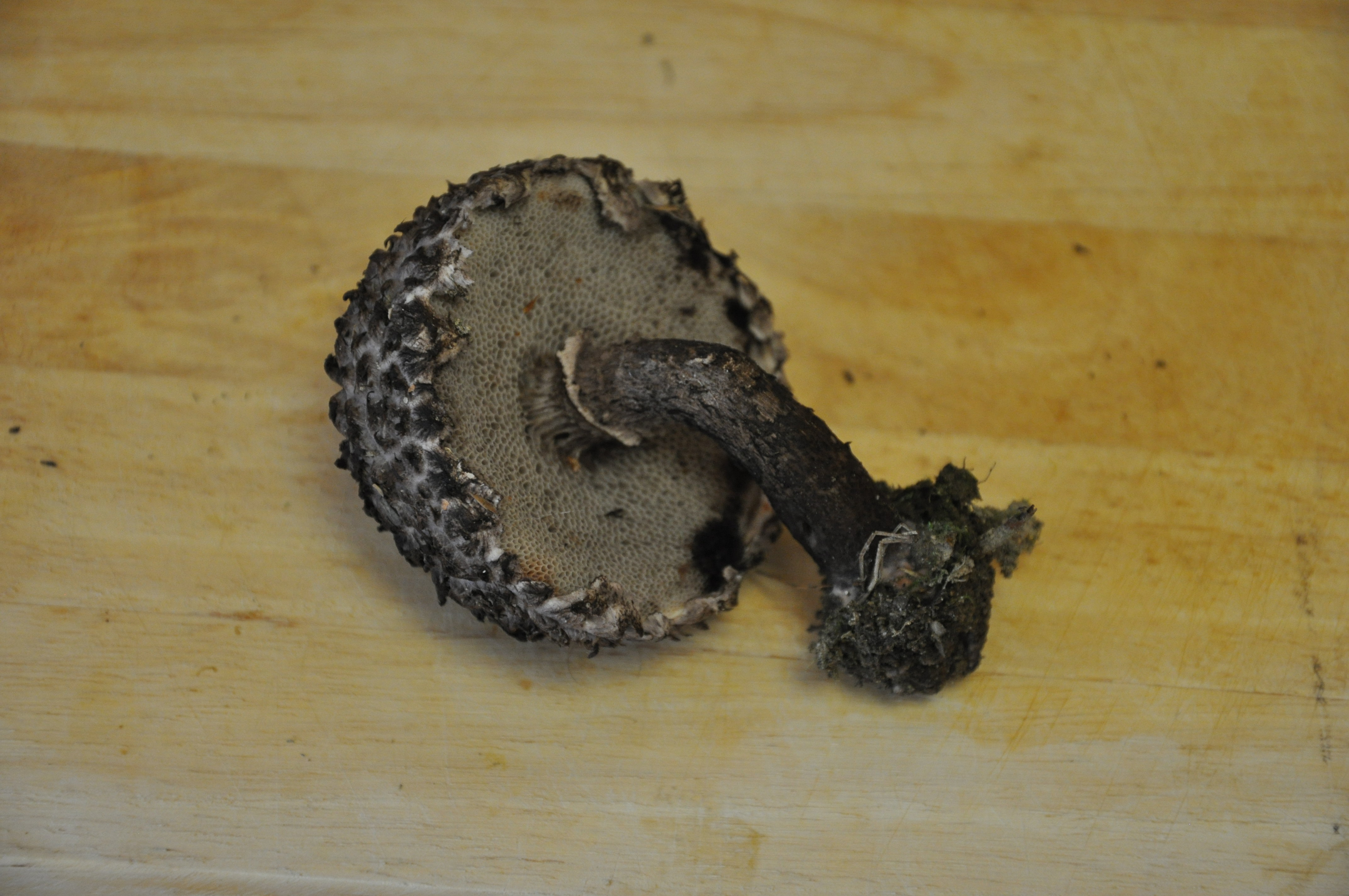 Like so many other mushrooms, genetics has made a definitive species identification much harder than once thought. Years ago, before DNA analysis, the OMW was usually considered one of two species - strobilaceus and floccopus - the former being European and the latter being primarily in North America.
After some DNA testing, it turns out that floccopus and strobilaceus were the same species all along. Since strobilaceus was named first, floccopus was abandoned. Even more confusedly, the North American mushroom turned out not to be floccopus or strobilaceus at all, but a different species entirely. According to Michael Kuo, it has not yet been named.
All of which is to say, if you find an OMW in Europe, it is probably S.strobilaceus. If you find one in North America, it could end up being several species, including one which doesn't technically have a name. Kuo refers to it as "floccupus" in quotes - I will do the same. This suits me, as the books I originally read about the OMW in were out of date, so floccupus is the name I'm familiar with.
---
Macroscopic Features
Cap/Flesh = 3-15cm - covered in shaggy, dark grayish black scales - dry - the base exterior flesh of the cap is gray or white, and always lighter than the scales - bits of the cap can be seen hanging down over the edges - these are "partial veil" remnants. The flesh is white when cut, then bruises red and eventually turns black.
Spore surface = Pored and starting off whitish and brighter than the cap. As it ages changes to gray or black. If you damage the pores, they will bruise red at first, like the flesh, then turns black as well.

Stem ("stipe") = 4-12 cm by 1-2.5 cm - very shaggy like the cap, usually dark gray or black. Sometimes has a ring or an area that looks like a ring might have been there once. Cut the stem in half and it will be solid inside rather than hollow.

Spore Print = Almost or entirely black.
Ecology ("How it grows.") = Micorrhizal - grows in a mutually beneficial relationship with hardwood trees, perhapsoften oaks. A summer mushroom that sticks around through fall.

Distribution = S.strobilaceus most likely if in Europe. S."flocculus" or other species if in North America. Either alone or in small groups.

Other Traits = Currently, technically, there is no S.flocculus species, rather one of the species in North America may be nameless. There are a few species in north america, and telling the difference is near impossible without DNA analysis.
---
THIS POST IS NOT INTENDED FOR FORAGING PURPOSES AND TO USE IT FOR THOSE PURPOSES WOULD BE DANGEROUS. DO NOT HUNT WILD MUSHROOMS WITHOUT RELYING ON A COMBINATION OF PROFESSIONAL FIELD GUIDES, IN PERSON PROFESSIONAL GUIDANCE, OR IN PERSON GUIDANCE BY SOMEONE TRUSTWORTHY WHO HAS COPIOUS LOCAL, SPECIALIZED MUSHROOM HUNTING EXPERIENCE. FAILURE TO DO SO CAN RESULT IN GRIEVOUS PERSONAL HARM OR DEATH.
---
For The Online Mycokey program look Here
---
Information Sources: http://www.mushroomexpert.com/strobilomyces_floccopus.html https://en.wikipedia.org/wiki/Strobilomyces_strobilaceus David Arora, Mushrooms Demystified
Picture Info: [1]Borch3kawki CC-BY-SA-3.0, via Wikimedia Commons [2]By This image was created by user Patrick Harvey (pg_harvey) at Mushroom Observer, a source for mycological images. You can contact this user here. CC BY-SA 3.0, via Wikimedia Commons [3]Strobilomyces own work, CC-BY-SA-3.0, via Wikimedia Commons [4]Dmitry Brant, own work, CC-BY-SA-3.0, via Wikimedia Commons [5]By Jerzy Opioła (Own work) CC BY-SA 4.0-3.0-2.5-2.0-1.0 , via Wikimedia Commons [6]By This image was created by user Patrick Harvey (pg_harvey) at Mushroom Observer, a source for mycological images. You can contact this user here. CC BY-SA 3.0, via Wikimedia Commons