The Amateur Mycologist #15 - Hericium erinaceus - The Lion's Mane
These posts are not for foraging. They are intended for entertainment and intellectual satisfaction only. These posts are not a field guide nor comprehensive in any way - their accuracy is not assured in any way. Do not eat wild mushrooms unless you are a professional, have substantial professional assistance or have a wealth of personal experience with a specific species. Do not make any foraging decisions based on these posts. To do so could be dangerous or life threatening.
These Posts Contains No Information Regarding Edibility Or Toxicity
---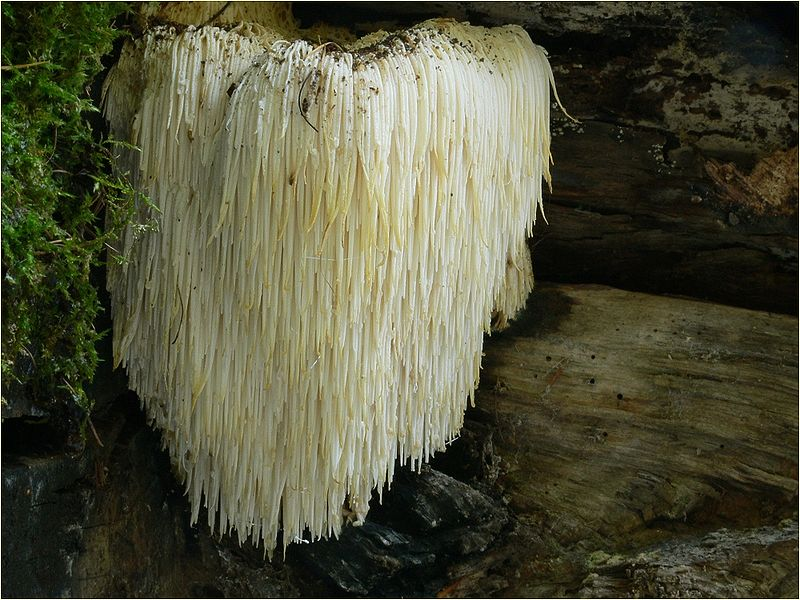 We've seen several pore surfaces in our exploration so far.
Known as the Lion's Mane mushroom, H.erinaceus has a very different pore system than the other mushrooms we've seen. Indeed, very different from most other mushrooms in general. Rather than pores or gills, H.erinaceus spore surface grows into long, thin spikes. At the apex of the mushroom's growth, these spikes look like a perfect, white frozen waterfall.
Stumbling upon a grandiose and robust Lion's Mane in the forest must be an exhilarating experience. The ones I've had the luck of running into were very exciting finds, but smaller and beginning to discolor, as the species is wont to do in old age. As the spikes get longer and the mushroom stops growing, they change from pure white to a discolored yellowish, and eventually brown.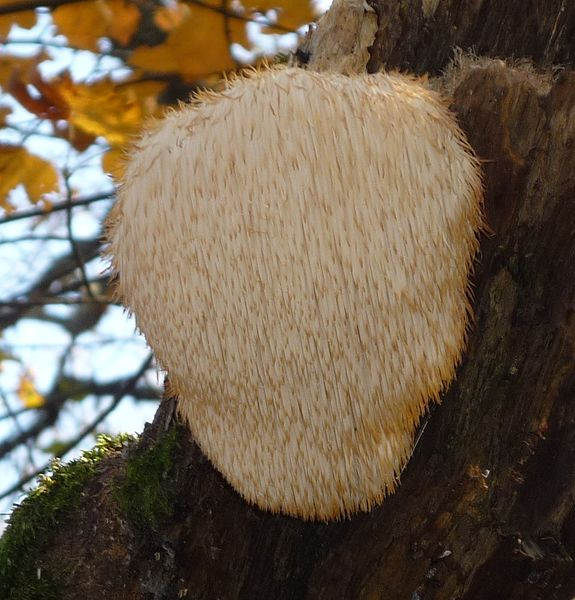 The Lion's Mane has no stem, instead growing directly from the tree from a white base which expands until it begins to differentiate into the outcroppings that will eventually become myriad tendrils. Take a look at a very young specimen, where the incipient tendrils are beginning to form in a fluffy show of bright white.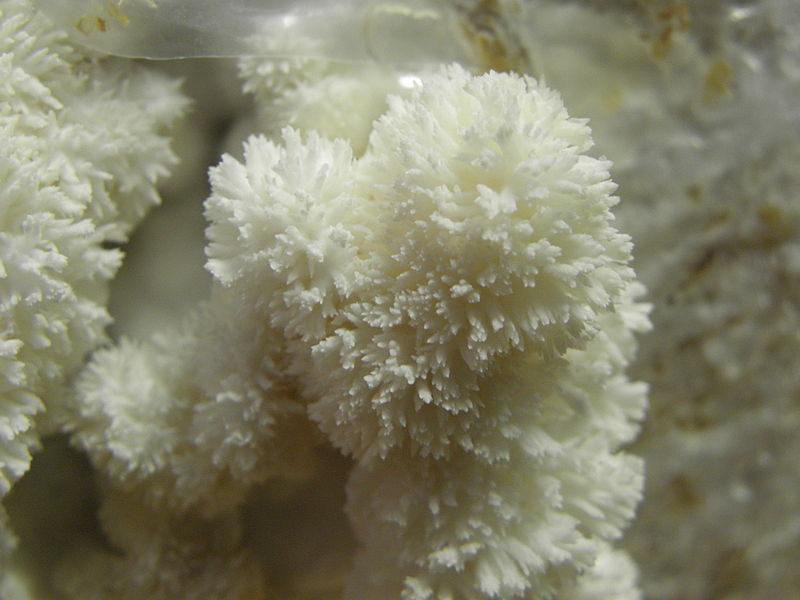 Lion's mane is either a saprobic mushroom, growing on dead hardwood, or parasitic, living on weakened or injured hardwood trees. The mushroom may have a particularly affinity to oak. When I've encountered this mushroom, it was on the very bottom of a long, fallen hardwood tree in the tri-state area. They tend to grow alone, but possibly in very large clumps, like the first photo at the top.
The Hericium genus contains more than one species, and definitively telling H.erinaceus apart from some of its cousins is not always straightforward. One important factor is that the H.erinaceus spines tend to be up to 5 cm long at their full maturation. Other species, like H.coralloide, pictured to the right, tend to have shorter spines, usually not more than a centimeter in length, with more distinct branching.
You could also find, in and around the Great Lakes of North America, H.americanum, pictured to the left. This species has long spines, like H.erinaceus, but unlike H.erinaceus, those spines don't all clump together, but grow on branch-like structures, more akin to H.coralloide. The problem is that the young versions of all three species often look nearly identical, with shorter spikes, closer together, and growing on the same kind of medium.
The only way to be sure which of three species you're dealing with is to wait until a specimen is finished maturing and moving toward old age - i.e. when the tips of the spikes begin to yellow and brown. At that point, if the spikes are long, and clumped together, you have H.erinaceus. If they are long but dispersed on branches, you have H.americanum. And if they are yellowing but short and branch like, you have H.coralloide. Whichever you encounter, you won't forget it anytime soon.
---
Macroscopic Features
Cap/Flesh = White hard base connected to dead hardwood and hidden from view - flesh is white, should not change color when cut. 8-16cm wide - but can get larger - all in one "clump" as Kuo says, of white soft spines, anywhere from 1-5cm long - although if it branches out into smaller groups of spines, or if the spines are uniformly short but discolored, then it may be another Hericium. As the mushroom ages the spines will turn yellow and then brown, starting at their tips.
Spore surface = The white spikes are the pore surface, that's where the spores come from.
Stem ("stipe") = No stem.

Spore Print = White - lay spike side down on spore collecting surface.
Ecology ("How it grows.") = Saprobic if growing on dead hardwood, parasitic if growing on a living tree. Summer through fall - possibly later if its warm enough.
Distribution = Primarily North America, although possibly throughout Northern Hemisphere - definitely some Hericiums occur throughout Northern Hemisphere.
Other Traits = Difficult to ID definitively when young as its easy to confuse with other Hericiums. Mature specimen needed to be sure.
---
THIS POST IS NOT INTENDED FOR FORAGING PURPOSES AND TO USE IT FOR THOSE PURPOSES WOULD BE DANGEROUS. DO NOT HUNT WILD MUSHROOMS WITHOUT RELYING ON A COMBINATION OF PROFESSIONAL FIELD GUIDES, IN PERSON PROFESSIONAL GUIDANCE, OR IN PERSON GUIDANCE BY SOMEONE TRUSTWORTHY WHO HAS COPIOUS LOCAL, SPECIALIZED MUSHROOM HUNTING EXPERIENCE. FAILURE TO DO SO CAN RESULT IN GRIEVOUS PERSONAL HARM OR DEATH.
---
For The Online Mycokey program look Here
---
Information Sources:
http://www.mushroomexpert.com/hericium_americanum.html https://en.wikipedia.org/wiki/Hericium_erinaceus http://www.mushroomexpert.com/hericium_erinaceus.html http://www.mushroomexpert.com/hericium_coralloides.html
Picture Source: [1]Lebrac, CC-AS-3.0, via wikicommons [2]Lebrac, CC-AS-3.0, via wikicommons [3]Властарь, Own Work CC-AS-3.0, via wikicommons [4]By Rob Hille Own work CC BY-SA 3.0 via Wikimedia Commons [5]Martin Hlauka Pescan Attribution, via Wikimedia Commons [6]By John Carl Jacobs JCJacobs Hericium americanum Ginns 59262 CC BY-SA 3.0, via Wikimedia Commons
---